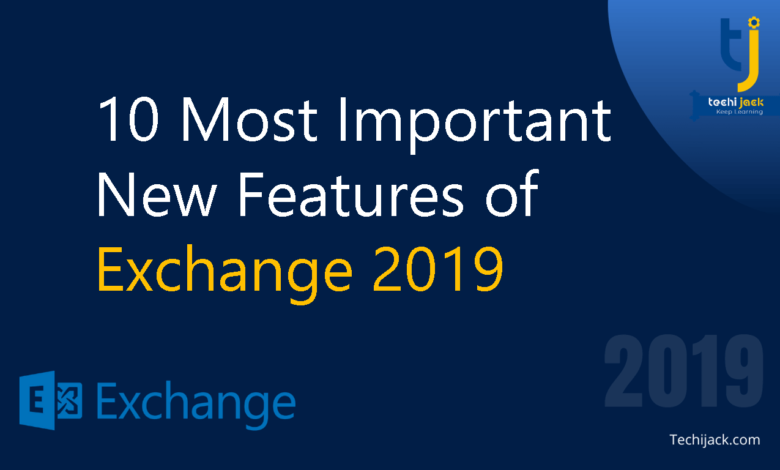 What Are The New Features Of Exchange 2019
In this post, we will discuss the Exchange 2019 new features.
Though the architecture of exchange 2019 is similar to the exchange server 2016.
However, some new features and improvements are introduced in the exchange server 2019.
So, we will discuss the important difference between the exchange 2016 and 2019
Following are the new feature of exchange 2019
Modern Hardware Support
Now exchange server 2019 supports up to 256 GB of memory and 48 CPU cores.
Windows Server Core Support
Now the configuration of your exchange server is more secure because you can now install exchange 2019 on windows server core 2019.
Metacache Database
Now the database engine of the exchange server is more powerful than enables better overall performance.
In addition to this, now the exchange database engine also works on storage that is a combination of SSD & JBOD drives.
Dynamic Database Cache
Now memory is optimized for active database usage.
Improved Database Cache
Search infrastructure is completely rebuilt for cloud-scale and reliability in an online exchange, which is now available in exchange 2019 as well.
This allows the indexing of large files, better search performance, and simpler management.
Faster, More Reliable Failovers
Changes in search architecture result in more reliable failover between the servers.
Client Access Rules
This is the feature that controls the external access to the exchange server for administration via EAC Or EMS.
You can configure and apply a rule to increase security while managing an exchange server and allow the administration of exchange from the internal network only.
Calendar Imporvements
Now you can forbid the Do Not Forward feature to forward the invitation to other people and can allow the only organizers to invite additional attendees.
Also, you can add an event that shows the out of office status.
Moreover, the administrator now cancels the meetings of a user who left the company, by using remove-CalendarEvents Cmdlets.
Delegate Permissions Via PowerShell
Administrators can now assign delegate permissions by using Add-FolderPermission Cmdlet.
Email Address Internationalization
This new feature supports routing email addresses that contain non-English characters.
Therefore, all the above points you will find in new exchange as Exchange 2019 New Features
Exchange Server 2019 Prerequisites