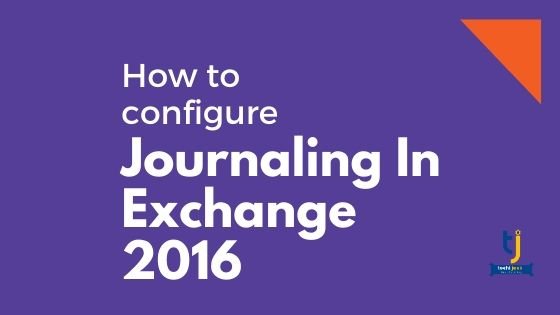 Journaling In Exchange 2016
In this article, we will learn about journaling in Exchange 2016 Server.
So, First, have a look at what is journaling and its use for an organization.
Second We will see, types of journaling
Also, we will see the consideration before configuring journaling in exchange server 2016
Finally, we will configure journaling for exchange server 2016 environment.
What Is Message Journaling In Exchange 2016
Basically, message journaling is used to retain a copy of a message for compliance purpose.
Messages which are identified for the journaling.
A copy of those messages is sent to the journaling mailbox.
The compliance department in an organization can monitor or review these emails.
There are two types of journaling
Standard journaling
Premium Journaling
Standard Journaling
An organization using standard journaling cannot selectively choose the message for journaling.
However, In this case, all the incoming and outgoing messages.
Both sent to a journaling mailbox
Premium Journaling
When an organization enables the premium journaling feature.
Therefore, these organization can selectively choose the messages to be journaled
However, premium journaling uses journal rule to identify the message to be journaled
One Can identify messages base on scope and journal recipient.
Available Scopes for journaling rules are below
Internal messages only
External messages only
All messages
Available Journal rules for recipient journal are below
A specific user or group
Apply to all messages
Consideration For Journaling Mailbox
If you configure journaling for all messages.
Exchange Admin can get an idea that how large the journaling mailbox can grow in the future.
However, the size of the journaling mailbox depends on the size of the organization.
Therefore, it is good practice to create a new separate dedicated mailbox for journaling.
As journaling mailbox contains sensitive information.
So, access to the Journaling mailbox should be secure.
It should only be accessed when there is a need for compliance.
How to configure Journaling
In order to configure journaling
Log in to the Exchange admin center with admin rights.
Create a new mailbox by the name of a journal or any name of your choice.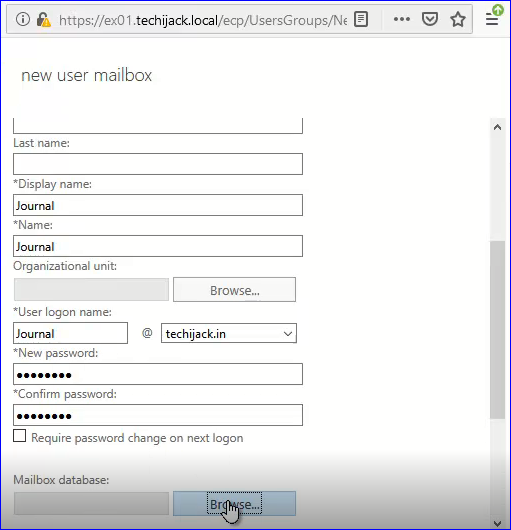 You can choose the separate new mailbox database if its a production exchange server.
To begin with journaling
Navigate to compliance management, select journaling and click on plus sign.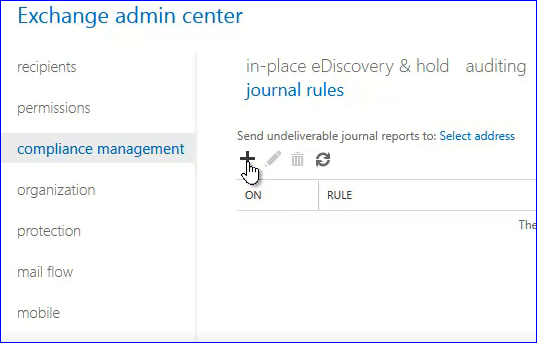 A new window will open for configuring new journal rule
Here, put the email for journal mailbox in send journal report to
Give a name to a journal or choose one of your choices.
Select the option to apply rules on all messages sent or receive
Also, select all message for journal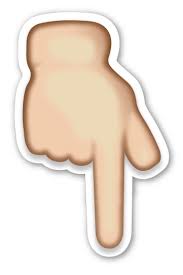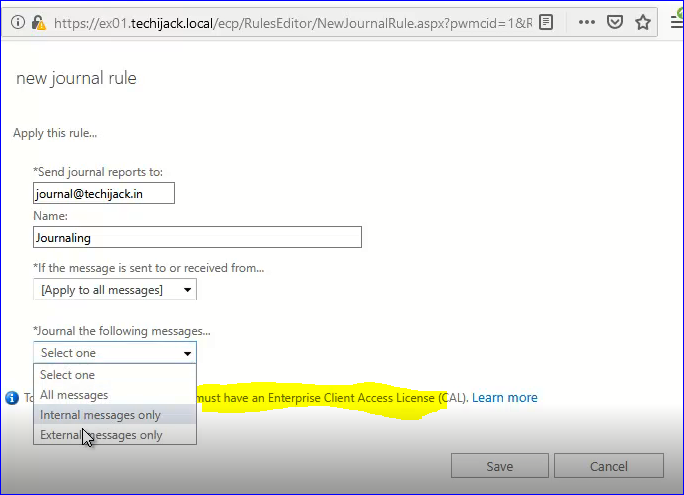 Thus, in this example, we configure standard journaling.
You must have an enterprise client access license.
If you want to configure premium journaling.
This way you can monitor your organization's emails for compliance
Furthermore, watch the video below to see, what is journaling & how to configure it In exchange server 2016
For any Exchange assistance & tutorial, feel free to email: info@techijack.com