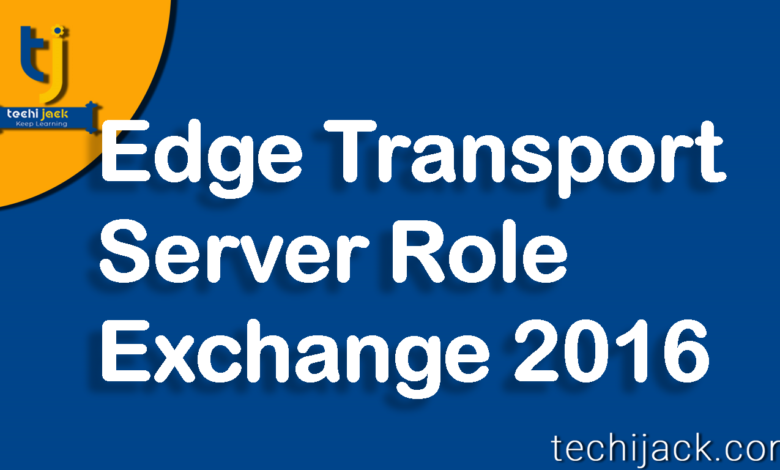 Edge Transport Server Role Exchange 2016
Edge Transport Server role in exchange 2016 provides a secure SMTP connection to Exchange Server.
The edge transport server role plays an important role when sending and receiving emails from the internet.
Edge protects the email with a secure SMTP gateway to exchange the organization.
Though the primary role of the edge server is to protect against unwanted pieces of stuff.
Such as protection from malware, spam, and viruses.
The main motive of the edge transport server was to replace the third-party SMTP gateways.
Though many organizations are still using third-party SMTP gateways, according to their needs.
Basically, It depends on the feature you want for your SMTP gateways
Before deploying the Edge Transport Server to your exchange organization.
You should evaluate the feature of edge server and third-party SMTP gateway solutions.
Edge server 2016 can be managed only via an exchange management shell or Windows PowerShell.
The graphical interface is no more available with edge server 2016
Functionality Of Edge Transport Server Role
Internet message delivery
Antivirus & Antispam Protection
Edge Transport Rule
Address Rewriting
Internet Message Delivery
This accepts all the incoming emails from the internet and other servers in external organizations.
It routes all the incoming messages to the internal exchange server.
Antivirus & Antispam Protection
With the help of a collection of agents, it provides the multiple security layers of virus protection and spam filtering.
However, it uses agents to filter email messages.
By using the source and destination of recipients SMTP source server, message content, and attachments.
Though Exchange server 2016 does not consist of any antivirus software.
One can use exchange online protection as well as any third party protection system.
Which can be easily integrated with the exchange server 2016.
The perimeter network is the best place for this server.
Because this is an entry point from the internet to the internal organization.
Edge Transport Rule
This rule controls the message flow which is sent and received from the internet.
It works the same as the transport rule.
It applies action to message which meets particular conditions.
Edge Transport rule conditions match the data.
such as patterns in message, body, subject, header or any specific words.
Furthermore, the action is applied on the basis of condition, how the message is processed.
It applies the action to it, such as dropping, rejecting a message, quarantining, etc.
Address Rewriting
The scenario where address rewriting has been used
When internal organization want to hide its internal domain
And enable multiple organizations to appear as a single organization.