Exchange Server 2016
Exchange 2016 vs 2013 | Explore New Feature
Exchange 2016 Role Architecture - What's New & What Is Discontinued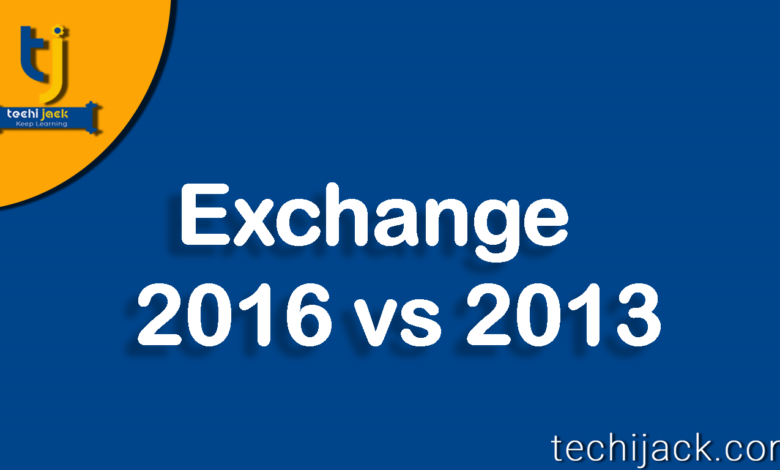 Exchange 2016 vs 2013,  New Feature Of Exchange 2016
When it comes to the new feature of exchange and comparison between exchange 2016 vs 2013
There are several aspects to keep in mind while working with these versions of the exchange server.
If you are moving to exchange 2016 from 2013. You should keep the following details handy.
First, let's discuss how Microsoft redesigned its role architecture for exchange 2016.
Role Architecture Of The Exchange 2016
The role architecture of the exchange server 2016 is simplified and reduced by Microsoft.
If you compare the older version of Exchange Server like 2007 & 2010
In these older versions, (Exchange 2007 & 2010) there were five roles.
Hub Transport Server Role
Client Access Server Role
Mailbox Server Role
Unified Message Server Role
Edge Transport Server Role
In order to manage these multiple roles for high availability.
More hardware requirement was there, which also affects the budget of any organization.
After Exchange 2010, Microsoft launched exchange 2013 With three server roles.
Client Access Server Role
Mailbox Server Role
Edge Transport Server Role
Microsoft reduces the roles in exchange 2013, like, hub transport and unified message roles.
However, in Exchange Server 2016 Microsoft merges all the roles in one server.
Except for the Edge Transport Server role, all the Exchange Server roles merge in one Mailbox Server Role.
Now all the functionalities of client access role, hub transport role, unified message roles exist in one mailbox server role.
By merging all the roles in one single mailbox server was a good idea which has multiple benefits.
Benefits Of Exchange 2016 Mailbox Server Role
Having all the roles in one box reduces the requirement of different multiple machines.
All roles are now in a single machine.
Therefore, it becomes easy to manage and configure as well as.
Better reliability and scalability are thereby managing only a few servers.
So, deploying two or three servers only can achieve high availability.
New Feature Of  Exchange Server 2016 vs 2013
Though, client access role is not present in exchange server 2016
Therefore, client access service runs on the mailbox server to authenticate, proxying and redirection.
The Protocols, which make it easy are Http, POP, IMAP & SMTP
You can keep the current client access server (2013) in coexistence with the exchange 2016 deployment.
It can proxy traffic from exchange 2013 to 2016 as well as from 2016 to 2013 exchange.
The interface of outlook on the web is better and optimized for mobile devices.
Better calendar appearance and enhance search with email reminders
Inline video player functionality, URL link preview is new to outlook on the web.
Moreover, the outlook on the web has the ability to undo mailbox action.
Now Mapi over Http is a default protocol that Outlook client uses to connect with exchange 2016.
However, if office online server is installed, users can edit word, excel & power-point files from outlook email itself.
In addition, Exchange Server 2016 support In-place hold and in-place eDiscovery for use with the public folder.
Furthermore, search results are faster because of the distributed workload with other servers.
Discontinued Feature Of Exchange 2016 vs 2013
Some of the features are discontinued from the exchange server 2016.
However, they are now replaced with new technology.
Discontinued Exchange Features are
The unified messaging service running on the mailbox server role now replaces the unified messaging server role.
Now the hub transport server role replaces the transport service.
No spell check on the outlook web app. Spell check now works on the browser itself.
Managed folders are now replaced with the retention policies.
RPC over Http is now replaced with Mapi over Http
DAG Support for failover cluster administrative access point.
So, whenever you are working with these two versions.
Therefore, it is equally important to look at the new feature as well as the discontinued feature in exchange 2016.