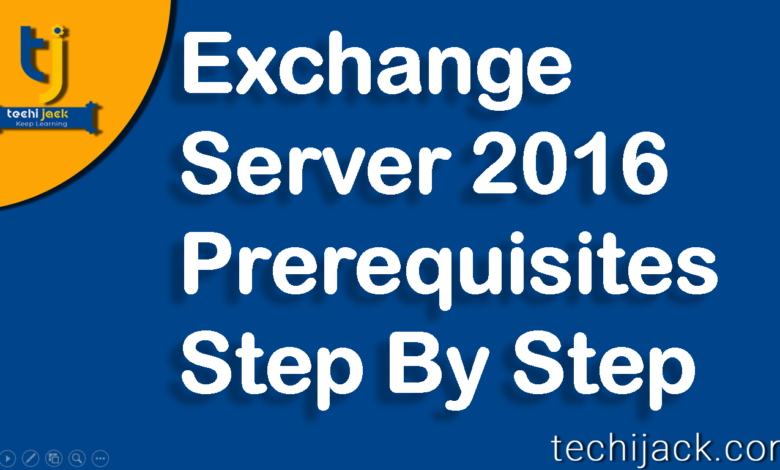 Exchange Server 2016 Prerequisites on windows server 2016
Install Exchange Server 2016 Prerequisites Step By Step: First of all, you have to prepare the active directory before installing Exchange
Software requirement for the active directory preparation
.Net Framework 4.7.2 or later
Visual C++ Redistributable Package for Visual Studio 2012
If you want to install remote tool administration you can run the following command
Install-WindowsFeature RSAT-ADDS
 After you install it, you can prepare your active directory

Prerequisites for Installing Exchange 2016
As you are aware, now the exchange server 2016 has only one role for Mailbox.
Another role is the edge server transport role.
The minimum Memory required by the exchange server mailbox role is 8 GB
The minimum memory for an edge server role is 4 GB
If you are installing exchange on windows server 2016.
Make sure that you are using Exchange server 2016 Cumulative update 3 or later.
Prerequisites For Installing Exchange Server 2016 Mailbox Role
Install .Net Framework 4.7.2
Microsoft Knowledge Base article KB3206632
Visual C++ Redistributable Package for Visual Studio 2012
Visual C++ Redistributable Package for Visual Studio 2013
Microsoft Unified Communications Managed API 4.0, Core Runtime 64-bit
https://www.iis.net/downloads/microsoft/url-rewrite
Note: Visual C++ Redistributable Package for Visual Studio 2013 is only required by the exchange mailbox server.
If you are installing a management tool or edge transport server, then it is not required.
You have to run the following command on Powershell.
Install-WindowsFeature NET-Framework-45-Features, Server-Media-Foundation, RPC-over-HTTP-proxy, RSAT-Clustering, RSAT-Clustering-CmdInterface, RSAT-Clustering-Mgmt, RSAT-Clustering-PowerShell, WAS-Process-Model, Web-Asp-Net45, Web-Basic-Auth, Web-Client-Auth, Web-Digest-Auth, Web-Dir-Browsing, Web-Dyn-Compression, Web-Http-Errors, Web-Http-Logging, Web-Http-Redirect, Web-Http-Tracing, Web-ISAPI-Ext, Web-ISAPI-Filter, Web-Lgcy-Mgmt-Console, Web-Metabase, Web-Mgmt-Console, Web-Mgmt-Service, Web-Net-Ext45, Web-Request-Monitor, Web-Server, Web-Stat-Compression, Web-Static-Content, Web-Windows-Auth, Web-WMI, Windows-Identity-Foundation, RSAT-ADDS
Once all the above prerequisites are completed.
Therefore, you can proceed with the exchange server installation.
Make sure to log in as a domain administrator with proper rights.
Note: If you are installing Exchange Server 2016 CU 18 or later, you need to install .Net Framework 4.8
Download Cumulative Update 20 for Exchange Server 2016
Requirements For Exchange 2016 edge transport role
This server should be in a perimeter network
Install Lightweight active directory server by running the following command on PowerShell
1.Install-WindowsFeature ADLDS
2. .Net Framework 4.7.2
3. Visual C++ Redistributable Package for Visual Studio 2012
Therefore, providing a domain suffix to an edge server is necessary.
So, that it can communicate with an active directory.
Exchange Server Administration Course
Exchange server 2016 prerequisites step by step