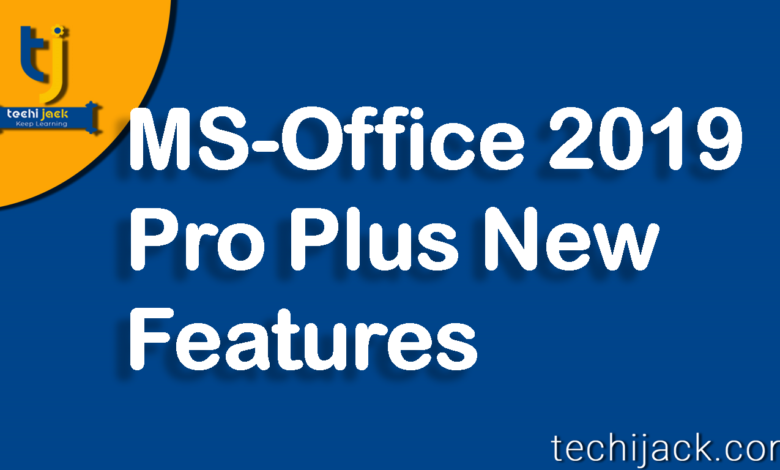 Microsoft Office 2019 Pro Plus – What's New?
Microsoft Office 2019 pro plus is the latest version of MS office for both Windows and Mac systems.
This version was released in September 2018 and power-pack with a number of small tweaks and additions.
This is the latest standalone version of MS office software.
It involves MS Word, Excel, Outlook, PowerPoint, Access 2019, Visio 2019 and Publisher 2019.
Office 2019 is going to be very useful for those that prefer to save and access their important data and files.
Therefore, without any cloud backups, users can save their files offline on their computers.
In this version, users are required to pay a one-time fee to get access to the Microsoft Office 2019 services.
New changes and features of the all-new Microsoft Office 2019 Pro Plus
Here is a quick glance at the brand new changes that have come to Office 2019.
However, It delivers features across apps to help users create amazing content in much lesser time.
Therefore, some of the top changes made to Microsoft Office 2019 involve:
Crates mathematical equations with LaTeX equation in Word
Translates words, phrases and other text selections to another language with Microsoft Translator feature
Brings visual interest to your documents, presentations, and worksheets by inserting Scalable Vector Graphics
Creates smoother animations and movements in PowerPoint
Allows you to run a slide show with the digital pen
Amazing sound effects to improve accessibility
Powerful inking functionality for all
Strong data evaluation
Here are the features of Microsoft Office Pro Plus 2019
Use the Office Deployment Tool to configure and execute installments, and to obtain the setup files directly to Office Content Delivery Network on the web
All programs will be installed by default after downloading Microsoft Office Professional Plus 2019
Security updates and bug fixes are also configuring, downloads and install automatically
Offers easier email management in MS Outlook 2019
Add apps whenever needed
All products in Office 2019 are available in both 32-bit and 64-bit versions
Microsoft Office 2019 Professional Plus is now available to volume license customers.
Therefore, the single license price for this is the US $559 without any software assurance.
The download links for Office 2019 and individual applications are directly available from Microsoft.
Moreover, if you want to download it, You can download it by signing into the Microsoft portal.