Tech News
Snatch Ransomware Rebooting In Safe Mode To Hijack Pc
Hijacking Pc By Rebooting It To Safe Mode To By Pass Protection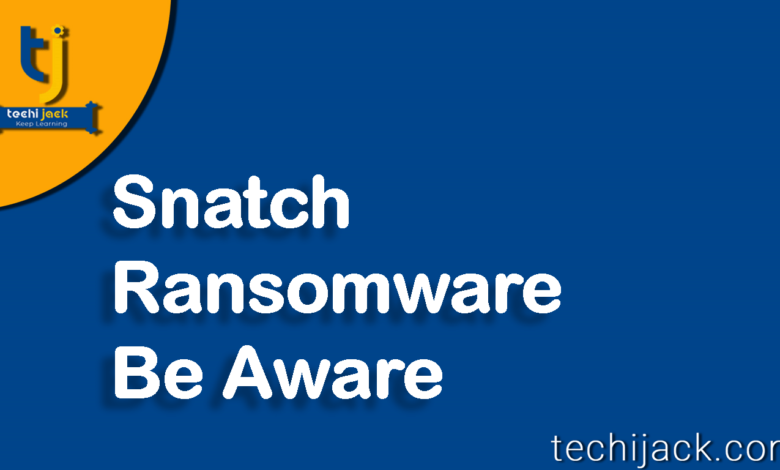 What is Snatch Ransomware
Snatch ransomware is another new way to steal the pc information.
Michael Gillespie discovered it and categorized as a ransomware.
Usually, snatch ransomware encrypt the files and change the file extension to .snatch
Other extension types are seen .hceem, .dglnl, .wvtr0, .googl
Therefore, It creates Readme_Restore_Files.txt to display the message, that your pc is encrypted.

Developers of this ransomware provide their email address to contact for decrypting the snatch ransomware.
This is marked as a high-security risk to the computer.
Therefore, cybercriminals create this type of ransomware to decrypt the files on target pc.
Why Cyber Criminals Create Ransomware
They usually create it to decrypt the victim's computer.
And to demand a huge amount to decrypt the files.
They demand money through cryptocurrency to decrypt the files.
However, these cybercriminals should not be trusted.
They do not decrypt the files, even if their demand is met.
It is advised, not to send any money to this untrusted source.
How Snatch Ransomware Works
The attacker writes its code in a smart way to bypass the security antivirus program.
As most of the antivirus security does not work in a safe mode.
Therefore, the trick is to reboot the computer in a safe mode and then start the encrypting process.
However, research says that most of the new attackers may use the same trick in the future.
How Ransomware Lands to Computer
Usually, attackers use email campaigns to target the victims.
They try to sent bulk emails to cover large audiences.
These emails have an attachment with malicious code written.
Attachment can be a word, Xls, exe, etc format.
Once the user opens this type of attachments code executes.
sometimes, the attacker creates a similar website link with different URLs to trap the user.
It can also land to the computer by clicking on unsecured links on the internet without knowing it.
How to be secure from the Ransomware attack
The attacker makes a trick to send an email, which appears like important emails.
Just avoid emails from unknown sources.
Do not open any email attachments without confirming it.
It is equally important to check the weblink before clicking to it.
Make sure to check the URL and website look and feel as well as.
However, avoid installing useless programs without knowing them.
Use an antivirus program to scan the pc twice a week.
Moreover, tighten your home or office network.