VMware
What Is VMware Virtualization – How It Works
How VMware Virtualization Work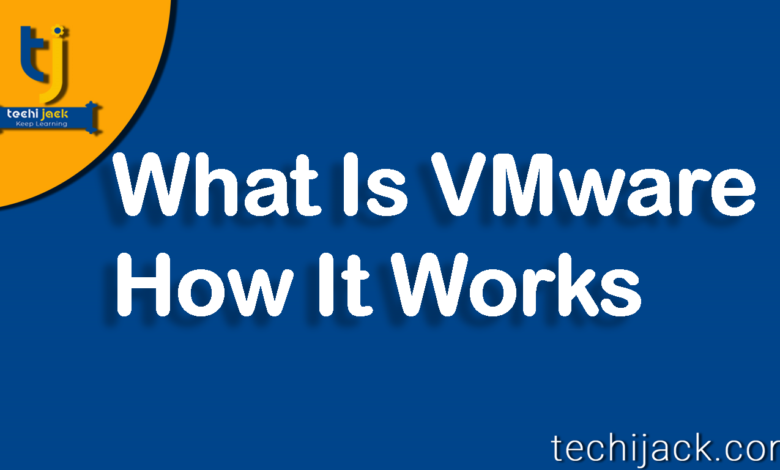 What is VMware Virtualization?
Vmware Virtualization: With the evolution of the online world, the world is shrinking into one large economy.
The digital transformation of the business world urges the need for a software-defined approach towards business and IT.
A number of different organizations face this problem of managing their workload.
The limitations of x86 servers and high storage and processing demands of current times require several IT organizations to deploy multiple servers, operating at fraction of their capacity.
A large number of servers result in huge inefficiencies and exuberant operating costs.
To successfully manage such problems the concept of virtualization was developed.
Virtualization allows the creation of separate virtual versions of an operating system, a server, a storage device or network resources on a single execution environment.
About the VMware company
VMware is an acclaimed software company that provides cloud computing and virtualization software and services.
This software specializes in compute, cloud, networking and security, and digital workspace.
A preferred choice of more than 500,000 customers globally, VMware is one of the companies to virtualize the x86 architecture.
A large number of companies from top industries around the world like healthcare, IT services, computer software, etc.
They use the services provided by VMware. 100% of Fortune 500 companies prefer to choose the services of VMware infrastructure.
VMware Server Virtualization
VMware server is a virtualization service that enables a user to run multiple operating systems on a single personal computer.
It is a hosted hypervisor that allows the user to divide their single physical server into separate virtual machines and use them simultaneously along with the actual machine.
Through VMware virtualization software the hardware functionality is simulated and a virtual computer system is created.
Each virtual machine can run its operating system including Windows, Solaris, Linux and Netware, and other operating systems that can work on the same hardware.
Each operating system shares the same resources such as networking and RAM.
How VMware Virtualization Work?
The software used for virtualization simulates hardware functionality to create a virtual computer system thus enabling the organizations to run more than one virtual system on a single server.
Each virtual system works as an isolated software container with its own set of operating systems and applications.
Thus, enabling the user to create multiple virtual machines that are completely independent of each other on a single physical server.
The hypervisor i.e. software used for virtualization dynamically allocated computer resources to each virtual machine.
A virtual machine has the following characteristics:
Partitioning. it divides system resources among virtual machines to run multiple operating systems on one physical machine.
Isolation. the advanced resource controls provided helps to preserve performance by providing fault and security isolation at the hardware level.
Encapsulation. The software creates an entire section for one virtual file thus, allowing the user to move or copy the complete virtual machine as if they are moving single files.
Independence. Since the complete virtual machine is within the thin walls of a hypervisor it is possible to provision or migrates to them any physical server.
Why use VMware 
Virtualization is one of the most effective ways of reducing the IT expenses of a company while boosting its efficiency and agility.
It is suitable for all size businesses and can be used for gaining flexibility and scalability.
Virtualization is used by companies to increase their IT productivity while minimizing or eliminating downtime.
It allows faster provisioning of applications and resources thus increasing the overall responsiveness.
The simplified data center management provided by virtualization comes with a true Software-Defined Data Center.
Visualization also aids in the availability of healthier business continuity and disaster recovery.