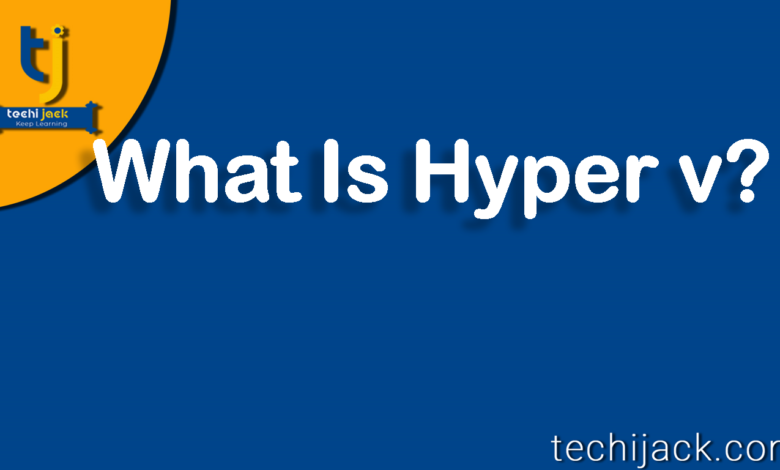 What Is Hyper V
Hyper V is a hardware virtualization technology
Which means it virtualizes the computer in software called a virtual machine.
This virtual machine behaves like real computer.
Therefore, It runs the complete computer as a software program.
Multiple virtual machines can be isolated and used for a different purpose.
This virtual machine uses the same hardware of the hyper-v host machine.
So, Using a virtualization technology can save a lot of time money, and energy.
Benefits of Hyper V Virtualization Technology
Now a day's virtualization technology is in demand
This technology helps to reduce the workloads
Therefore, it can help you to move your workloads to clouds
It helps in saving power and improves business continuity.
Easy to manage, move, and backup.
You can easily increase the disk size in case of low disk space.
Moreover, Testing and development are made easy with virtualization technology.
What is Hyper v Features
Remote Connectivity
Disaster Recovery & Backup
Computing Environment
Portability
Security
Optimization
There are a lot of features that hyper v offers.
Remote connectivity: Now both Windows and Linux systems can see the guest even If os is not booted.
It consists of a virtual machine connection, remote connection tool which gives the console access of the virtual machine.
Disaster Recovery & Backup: It comes with a very good feature for backup and disaster recovery
Therefore, the option of virtual machine replication gives the option to replicate the VM machine with a different host.
Even though a saved copy of VM can be saved to the different machine which can provide the high availability
Also, we get the VSS service for backup
Computing environment: With the hyper-v option we get a lot of features and functions to configure Hyper v machine in a different way.
However, it uses the hardware resource of the host machine, like storage, memory, network adaptors, etc.
Furthermore, this technology made it easy to configure the virtual machine in your desired way which behaves like a physical computer.
Portability: Now its easy to export and import your virtual machines and can migrate to different Locations to move on the different hyper v host machines.
Security: A direct attack on a virtual machine is prevented by the shielded VM and secure boot.
However, it also helps to stop malware and unauthorized access to VM.
Optimization: Integration service made it easy for optimization with services and drivers.
Take a deep dive and learn more about virtualization
However, It is equally important to know about what is Hyper-v virtualization technology before implementing it.
If you are thinking to implement Microsoft virtualization for your organization.
So, learn it and get the idea of how virtual machines work and how to manage it.
How To learn Virtualization For Free
It is a trending virtualization technology and it is worth learning it.
Though you may find many virtualization tutorials for beginners on the Internet & Youtube.
First, you have to look at the complete course and what it covers.
Therefore, then start your learning on self-pace on Microsoft's learning website.
As they have complete material for learning it.
If you want a complete overview of the Hyper-V tutorial.
Therefore, You can visit the youtube link for the Virtualization course.