Cloud
Difference Between Office 365 and Microsoft 365 – Check Now
Check Office 365 Pricing & Features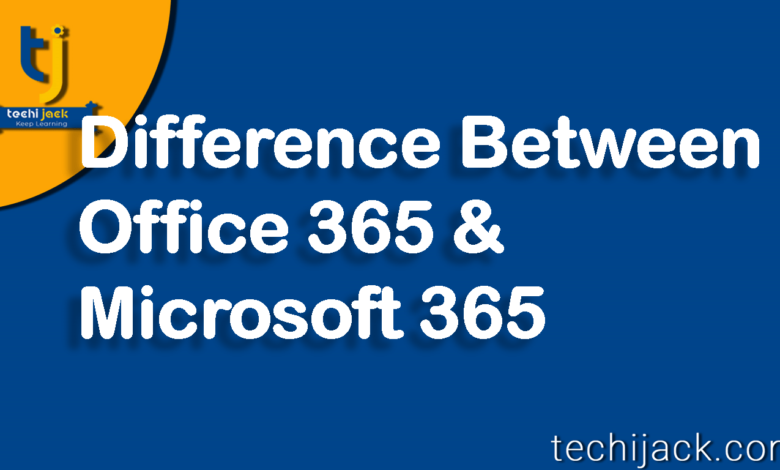 Difference Between Office 365 and Microsoft 365
You should know the difference between office 365 and Microsoft 365 before moving your business to the cloud.
If you are running a small, medium, or large business, then you would surely be considering Microsoft subscription to fulfill all your business needs.
Microsoft provides tools enabling businesses to be productive and communicate effectively from anywhere at any time.
Microsoft 365 is one of the latest products that come out as a part of Microsoft's cloud offering, and often people get it confused with Office 365.
A lot of people think that both these products are the same but Office 365 is a part of what is offered in Microsoft 365 services.
The new product Microsoft 365 is a bundle of services including Office 365, Enterprise mobility + security, and Windows 10.
It was released in Aug 2017 and comes in two different versions including Microsoft 365 Business and Microsoft 365 Enterprise.
So, let's understand what is the difference between Office 365 and Microsoft 365?
Office 365
This is a cloud-based suite of apps and services centered around your business or enterprise productivity.
This version includes all the apps you are familiar with like Microsoft Outlook, PowerPoint, Word, and Excel, and a few other Microsoft collaboration services.
There are lots of iterations of Office 365 and you can opt for different plans depending on your needs.
If you want the office applications in addition to your email, opt for the plan like Business premium which will provide you email and office suite on a subscription.
Depending on the plan which gets, the subscription will also include the apps and services like:
SharePoint
Skype for Business
Yammer
One Drive
Teams
Planner
Robust productivity and security features
It is a monthly per-user subscription plan
Therefore, one can choose from a variety of plans as per their specific needs.
These plans are matched according to your business and you can change them at any time.
Microsoft 365
As mentioned earlier, Microsoft 365 is a bundle of services that include Office 365 along with Windows 10 Enterprise, Enterprise Mobility + Security.
Just like Office 365, there are multiple plans E1, E3, E5 you can choose from depending on your business needs.
Price starts at $20/user/month and separate licenses are also available for these services.
Windows 10 is the latest and safest Windows ever that comes with BitLocker and Anti-virus features.
Enterprise Mobility + Security is a suite of security tools that provide added layers of protection to your business data.
It also helps you to manage both personal and work devices to make sure that your corporate data is secure.
Quick comparison
Using Office 365 plan is a great idea at the basic level but Microsoft 365 has its own advantages.
However, It offers added collaboration functionalities for content sharing and improved teamwork.
Microsoft 365 offers additional security features.
It has information protection policies to help manage and control how the information is accessed.
Therefore, It securely manages iOS, Windows, and macOS devices.
Choosing from Office 365 and Microsoft 365 is quite tricky but more most of the people, it might come down to price.
As mentioned earlier, there are a variety of plans available for both.
Microsoft 365 Business Premium and Microsoft 365 Enterprise are the two plans available in Microsoft 365.
However, the enterprise plan comes with some added features.
As the name suggests one plan is appropriate for small businesses while other is appropriate for enterprises.
Office 365 is available at a price of £9.40 per month while Microsoft 365 is available at £15.10 per month.
The extra £5.70 per month are charges for Windows 10 and Enterprise Mobility + Security which on their own are available at £5 and £6.60 per user per month respectively.
To get all these products, you need to pay £21 per month.
Moreover, it makes a saving of £5.90 per user per month.
So it's better to opt for Microsoft 365.
Conclusion
Which subscription plan you should choose?
The choice is yours and it depends on your core business operations, overall business goals, and infrastructure.
For start-ups and small businesses, choosing Office 365 is the perfect option.
However, if you are dealing with sensitive data and concern about security
Moreover, if your business focuses on teamwork, investing in Microsoft 365 is a great idea.
Whether you are starting from scratch, moving to the cloud is an instant flip of a switch.
There are some setup and migration requirements.
So, if you are an IT person, you may handle it easily.
It is equally important to know the difference between the two before subscribing.
Your best way is to get in touch with an expert like Techijack.
Feel Free To Check Microsoft Office 365 pricing below
For Tutorial Visit Youtube channel Techi Jack