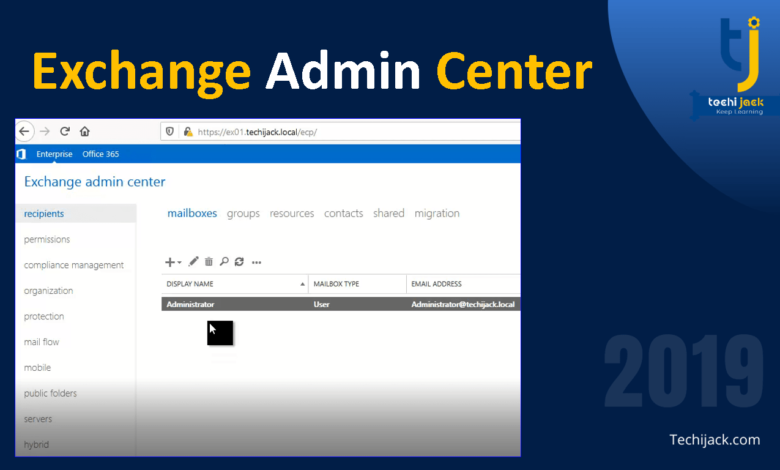 Exchange Admin Center On-Premises & Office 365
Exchange admin center is a web console that allows you to manage exchange server deployment on-premises and on exchange online in office 365.
This is a graphical interface from where you can manage your exchange deployment.
You don't need any other special tool for most of the basic administration tasks.
Therefore, you can access this management web console by opening the default URL: https://servername/ecp
By default, It is present in all exchange deployment.
In case, if you don't know the URL to access your exchange admin center panel.
You can simply run the following cmdlet to know the exchange admin center URL
Get-ECPVirtualDirectory | Format-List InternalURL,ExternalURL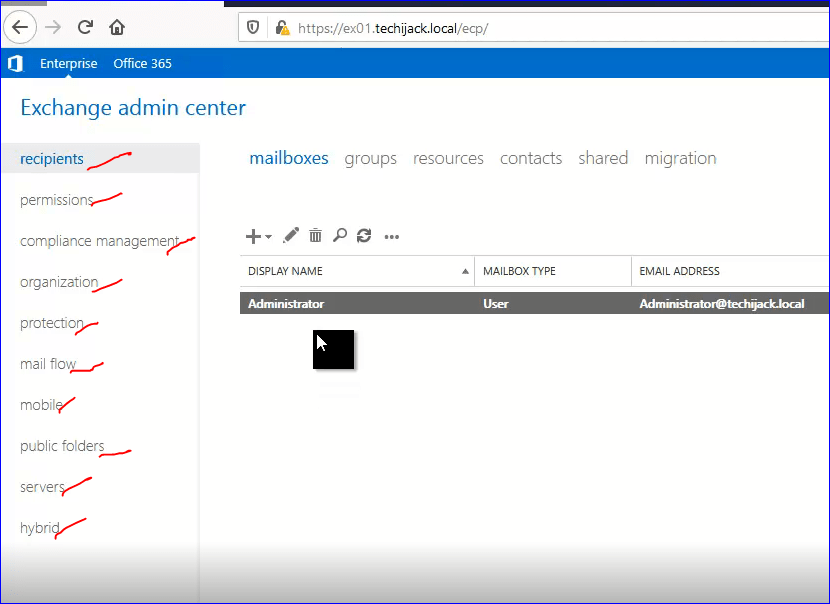 However, if you want to perform more advanced tasks.
Then you have to use Exchange Management Shell
Elements Of EAC
Recipients: From this node you can manage and create recipients mailboxes, group, contacts, shared mailboxes, resources mailboxes, etc.
Permissions: From this node you can manage administration roles such as, user roles and outlook web app policies.
Compliance Management: Compliance management helps you to manage in-place hold, in-place ediscovery, data loss prevention, retention policy, journaling, and retention tags.
Organization: From an organization node, you can manage federation sharing, outlook apps, and address lists.
Protection: From the protection node, you can manage anti-malware functionality, whereas exchange online also includes anti-spam functionality.
Mail Flow: In this node, you can manage delivery reports, rules, accepted domains, email address policies, and send receive connectors.
Mobile: In this node, you can manage mobile devices that you want to allow to connect with your organization, as well as you can configure mobile device access policies.
Public Folders: In this node, you can create public folder mailboxes, where public folders are stored. You can also create and manage public folders.
Servers: In server node, you can manage mailbox servers, databases, DAG's, virtual directories, and certificates.
Hybrid: Hybrid center is from where you access the exchange hybrid setup and configuration.
You may see the above all node in exchange admin center office 365 except the Server node.
Note: The server node is not available in office 365. Also you may not see unified messaging in exchange on-premises.
For more clearance, watch the video below or visit channel Techi Jack