Cloud
Office 365 For Business Plans | Choose Best Plan
Get Latest Office 365 To Secure Your Business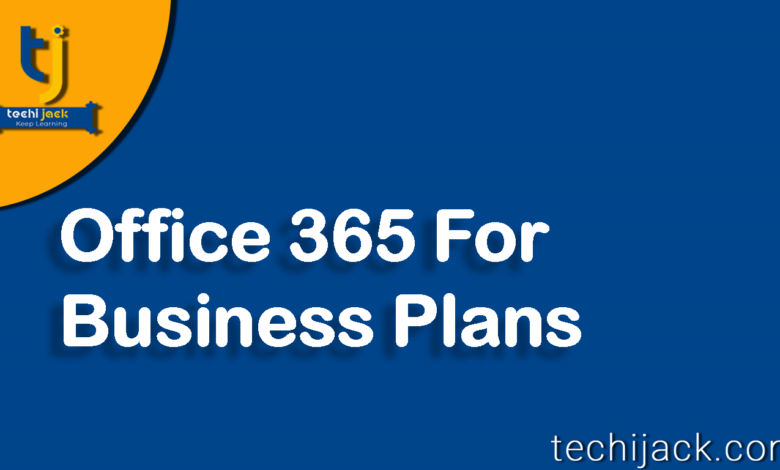 Office 365 For Business Plans
Office 365 For Business Plans: Microsoft has four main products for business including Office 365 business Essentials.
Microsoft 365 Business, Office 365 For Business Plans, and Office 365 Business Premium.
All these plans come with different features and different prices.
It is important for you to determine which plan works great for you.
Therefore, it involves a lot of thinking and figuring out which products are available with a particular plan.
When it comes to sign up for or to upgrade any plan remember that you should go with the one that can help your business to grow.
One of the biggest advantages of these plans is the flexibility.
Use your chosen plan wisely and then upgrade to a better plan fitting to your business requirements.
Let us understand what are the different Microsoft Office 365 business plans and what Microsoft offers with them.
Microsoft Office 365 for Business Plans
Microsoft has added the all-new features in recent months including new applications, security updates, general improvements, and fixes.
All these updates are available for enterprise-level customers.
Apart from this, all the office 365 for business plans will have access to Microsoft teams.
Let's have a basic and quick overview of all the available Microsoft office 365 business plans
And how much they will cost to you and why it is better for your business
Office 365 Business Essentials
This plan will offer only the web-based services and better for all the small businesses.
The Office 365 Business Essentials plan also includes web versions of the core Microsoft apps like Word, Excel, Outlook, and PowerPoint as well as Skype and OneDrive for business.
This plan is available at $5 per user per month. It is great for businesses with a high-speed internet connection looking for fast performance with a fewer desktop app.
In addition to the above tools, Microsoft also provides SharePoint for file sharing, Yammer which is a companywide social media network, and Microsoft teams for intra-office chats.
Using Office 365 Business Essentials is a great tool for small businesses looking to keep everything web-based.
Office 365 Business 
This is another better business plan for your business that features downloadable core desktop apps.
In this plan, users will have access to Excel, PowerPoint, Word, OneNote, and Access.
Office 365 Business subscribers will have access to OneDrive and unlike SharePoint, it is focused on storing documents on the cloud and sharing them with the teammates.
Sharepoint can also be used for these functionalities and additional features.
Therefore, SharePoint involves the ability to set up workflows which also notifies the team when documents are edited.
This package doesn't involve many web-based services.
It is best for the business owners looking to only use the core Microsoft apps on their desktops.
Office 365 business plan holders can also have access to the free versions of Microsoft Teams.
This plan is available at a cost of $8.25 per user per month and includes only the downloadable Microsoft desktop apps without online services and business-class email.
This business plan works great for small businesses looking to use only the core Microsoft apps and OneDrive.
Office 365 Business Premium Plans
This plan of Microsoft office 365 contains all the features of Office 365 Essentials and 365 Business and offers a full-featured service.
In addition to all the complete range of web-based services and desktop apps, the Office 365 Business Premium users will have access to the apps required for small businesses with larger teams.
These additional apps involve Bookings which is an online appointment scheduling service and Connections which is an email marketing client.
This plan is ideal for well-established businesses that require access to the full range of Microsoft services and collaboration tools.
This plan will cost you $12.50 per user per month.
Microsoft 365 Business
This is the best plan by Microsoft for businesses which is available at a price of $20 per user per month.
This plan includes all the features of office 365 Business Premium plan plus access to the mobile device management and IT security features.
Business owners can control the access of these apps to different levels for a group of employees within their business through the dashboard.
When a user subscribes to Microsoft 365 Business plan, he automatically upgrades to the Windows 10, and Windows defender turns on and set to automatic updates.
The new security features of the Microsoft 365 Business plan also protect employees from phishing and ransomware.
Therefore, It also prevents the unintentional leaks of any business data.
Apart from this, Microsoft 365 Business plan includes mobile management tools as well where the employees are prompted to enter a PIN to access their work accounts on their personal mobile phones.
This program also prevents the copy-pasting of data between work and personal accounts.
In addition to Booking and Connection, Microsoft 365 Business users will also have access to the Invoicing app that synchronizes with QuickBooks.
This can be used to create custom invoices as well as other small business apps.
Choosing Right Plan For Your Business
Choosing the right plan simply means figuring out how big is your business and team.
And what kind of services you need to manage your business, and how much it grows in the future.
The most important benefit of the above subscription plans is that you can change the one whenever required.
This means to choose a plan and grow your usage as your business grows.
While different business plans may provide access to different apps.
You can still find the add-ons from the Microsoft store which simply fit your business requirements.
Benefits of Office 365 for business
Here are the top benefits of choosing Microsoft office 365 for your business:
Flexibility: Office 365 gives you the flexibility to scale your business quickly as it grows. One can mix and match the apps to create custom solutions for each user or group of users.

Work anywhere: As long as you have internet connectivity, Office 365 gives you access to work from anywhere. It is entirely cloud-based and various emails and files can be shared from any location and at any device.

Advanced security features: There is a common misconception among people that the cloud is not secured and this is not true. It's all up to you how you use it and what security measures you are putting in place. Office 365 for business has a lot of built-in security features to keep your business data safe.

Easy collaboration: Do you have teams that work together on different tasks and presentations? If yes, Microsoft Office 365 will be super beneficial for your business. Everyone who needs to edit any document or spreadsheet can work on the same version rather than having multiple copies of the same.

Enhanced email capabilities: Office 365 users will have access to all the latest features of Outlook having a broad range of impressive email capabilities. Some of these features include Boomerang, time zone management, focused inbox and cluttering, and more.
Before purchasing the office 365 plans, first, compare & Choose the best office 365 for business plans