Social & Web
How To Secure A Website – 8 Powerful Tips To Secure Sites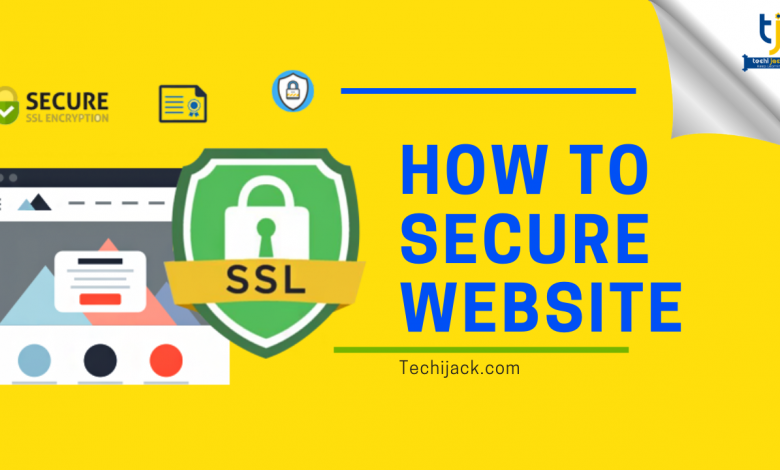 How To Secure a Website – 8 Essential Security Tips
This article is about how to secure a website, either it's on WordPress or on any other platform.
You already know that establishing an online presence for your business has become a critical aspect of your marketing strategy.
As you focus on improving your ranking and visibility on search engines, it is always important that you should protect your website from cyber-threats.
But, luckily, there are several security measures which you can take to protect your site from such threats.
Today, web security is a complex and ever-evolving topic.
Even as the latest and more effective security features for websites emerge regularly, hackers are also reinventing themselves to attack the websites or to navigate around these security functionalities.
The most common instances of hacking the website data are performed by the automated scripts.
Before moving further, let's understand what is website security? and how to secure a website from hackers?
Website Security
Also known as cyber-security, web security can be defined as a means of shielding your website from any kind of cyberattacks, and threats.
Website security involves setting up new features and taking further actions which may help protect your data along with the visitors of your site from hackers.
It will protect your website from:
Blacklisting
Malicious software
Vulnerable attacks
DDoS attacks
While these threats are always imminent, your website security should always be a priority regardless of whether the site has been attacked before or not.
Web security also helps to improve the performance of a website.
Security Tips to Protect a Website From Cyberattacks
Hackers do not just target big organizations, but they also target small businesses or personal websites.
Installing necessary security measures and taking all precautions is paramount for your website security.
Take a look at the below tips to ensure how to secure a website from any kind of threats and cyber attacks:
Update your website's software
Hackers are always reinventing new ways to navigate the existing security features.
Therefore, software updates are necessary as they come with improved security features and advanced technologies.
So, make sure your website runs on the latest software with the most effective and new security features.
Cybercriminals always attack vulnerable websites with outdated components like themes and plugins.
Whenever any kind of security hole is found in software, hackers can easily and quickly attempt attacks.
If you are using any third-party software on your websites such as CMS or forum, make sure to apply the security patches if required.
And, if you are using a managed hosting solution, then there is no need to worry about applying the web security updates as the hosting provider will do the same on your behalf.
SQL Injection
SQL Injection attacks are common whenever a hacker uses a web form field or URL parameter to gain access to your database.
If you are using a standard Transact SQL, it is easy for hackers to insert rogue code into your query.
This could be used to change tables, delete data, and get information.
Make sure to use the parameterized queries to avoid SQL injection issues to secure the website.
Most web languages come equipped with the above features and they can be implemented easily.
Install Security Plugins To Secure a Website
If you have a CMS Content Management system on your site.
Therefore, you should install powerful security plugins which can block hacking attacks on your website.
Installing security Plugins depends on what type of website you run.
And, if your website is not on WordPress, protect it with a program like SiteLock.
Some of the popular security plugins are iThemes Security, Sucuri, Bulletproof security, and more.
However, different plugins are also available for Joomla, Magento, WordPress, and more.
Run regular website security checks & Updates
A regular security check can identify several potential threats and issues with your website.
You may choose a web monitoring service for this.
Therefore, you must regularly check your website's code every week.
Once you receive the results, pay attention to the vulnerabilities.
Classify them according to the threat level and fix these issues starting from the most harmful ones.
An SSL Certificate Keeps the Website Information Secure & Protected
SSL is the most commonly used security protocol used over the web.
It is highly recommended to use an SSL certificate whenever you are passing information from the website and web server.
Any page that contains a login or asks for financial information must be secured.
Today, search engines are taking website security more seriously than ever because it assures a positive and safer browsing experience.
Make Sure Your Passwords are Secure
The best website security starts with using strong and secure passwords.
Don't use an easy-to-remember password.
Make efforts to figure out a strong password and use it in your server and website admin area.
A good thumb rule for choosing passwords is to include a mix of upper and lower case letters, numerals, or punctuation.
It is always better to use a password created by a password manager to secure a website.
Secure Folder Permissions
Websites contain some important folders and files containing the necessary information to keep your site work properly.
Without the right security measures and privacy protections, anyone can access the information.
So, it's better to assign some security information to these files and folders.
For this, you can go to file manager and change the file attributes.
Restrict File Uploads To Secure Your Website
Allowing users to upload any sort of files to your website is a risky task.
So, if someone uploads the file with the harmful script, it will open your website whenever it will execute or may redirect it to an unsafe page.
It is critical to treat all files with great suspicion if you allow file uploading on your website.
So, in order to protect from this, you should block users from executing any uploaded files.
Make sure you have a firewall set up and are blocking all the non-essential ports.
Setting up DMZ is the better option as it allows access to ports 80 and 443 from outside.
If you are permitting file uploads, use secure transport methods such as SFTP or SSH to your server.
Hopefully, now you know how important it is to secure your website and how to secure a website.
The above tips will help to prevent hackers from gaining access to your website.
Moreover, if are using best practice to protect your website from hacker and still facing challenges.
Feel free to contact Techi Jack at info@techijack.com