Exchange Server 2016
Microsoft
How To Move Exchange 2016 Database To Another Drive
Move Your Exchange Database To Different Drive From Default Location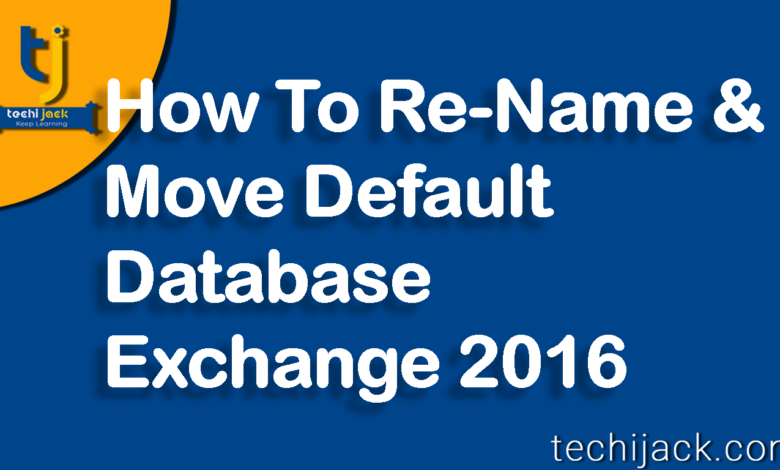 Move Exchange 2016 Database To Another Drive
Want to move exchange 2016 database to another drive?
When you install a fresh exchange server.
It creates a default Mailbox Database location if not changed at the time of installation.
Default Mailbox Database Location C:\Program Files\Microsoft\Exchange Server\V15\Mailbox
It is not the best practice, in addition, it is risky if you haven't move exchange 2016 database to another drive.
Why Move Exchange Database To Another Drive
It is necessary to move the exchange database to another drive because if anything wrong happens to the operating system.
The complete exchange server configuration is in danger.
Though you might have taken a backup of your exchange server
If your hard drive has gone bad and unrecoverable, all email system will be down
The default location is also not suitable as the size of database grow day by day and you might face the issue with space
Renaming the Mailbox database is also mandatory so that you can remember the name quickly and type it where it is required.
How To Move Exchange Server 2016 edb and log files
First, you can check the database name and rename it with the easy name
Which can be remembered easily, for example like MBDB1 or MBDB2, etc.
In order to get the database name and default path, run the following cmdlet in the exchange management shell
Get-MailboxDatabase | fl Name, EdbFilePath,LogFolderPath

By running the above cmdlet, you will get the name and path of the exchange mailbox database.
Steps to rename the exchange server mailbox 
Open Exchange Management Shell and type the cmdlet Get-MailboxDatabase
Now run another cmdlet to rename exchange server 2016 mailbox database
The cmdlet to rename Exchange server mailbox database is
Set-MailboxDatabase "Database Name" -Name NewName
For Example, see below

Confirm the database name by checking it with Get-MailboxDatabase cmdlets again
Now Exchange server database has been renamed and the next step is to move the database to another drive
Prior to Move Exchange Server Mailboxes
Move mailbox database exchange 2016 via Powershell
Make sure you have two more hard drives installed on your exchange server 2016

One for .edb files and another for log files, if your exchange server is part of dag
Keep the drive letter the same as on other exchange servers
In order to move the database run the following cmdlet
Move-DatabasePath <database name> -EdbFilePath <path & filename> -LogFolderPath <path>
Create a folder inside the drives by the name of MBDB1 or any name of your choice
For example, I used drive letter F: and G: to move .edb & log files so you can run the command below

The message will appear "Are you sure you want to perform this action" just type y to confirm the move
One more message will appear regarding database temporarily dismount just type y to move further

Once this is done, the exchange server database will be renamed and moved successfully
While the process of moving the Exchange 2016 database to another drive.
Exchange dismount the database, restore it to a different drive and mount it again.
This process may take time, according to your database size.
So, for best practice, move the exchange database just after installing it and before creating any new user mailbox.
For more clear vision to move exchange 2016 database Watch the following video
How To Rename & Move Exchange 2016 Default Mailbox Database
I hope after watching the above video for renaming and moving the exchange mailbox database.
You can easily rename and move exchange 2016 database to another drive.
If in case you face problems while doing this.
Feel free to contact via email: info@techijack.com, we will be glad to assist you.