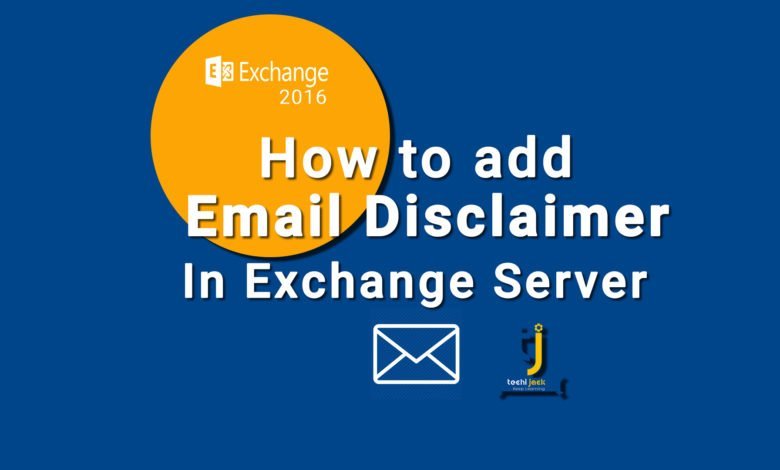 How To Add Email Disclaimer In Exchange 2016
In this article, we will see how to add an email disclaimer in exchange for 2016.
Also, we will discuss why it is useful to use them.
What Is Email Disclaimer
Email disclaimers are the legal statement at the bottom of emails.
Which describes legal information regarding the email content of an organization.
It also helps the third party to understand the copyright and confidentiality of the content present in the email.
Why Use Email Disclaimers
It is useful to apply disclaimers to every outgoing message from your organization.
Disclaimer helps the other person to understand the importance of the email.
However, If an email delivered to the wrong recipient, he/she can inform to system admin regarding that.
How To Apply Email Disclaimer in exchange server 2016
These disclaimers are applied by creating a transport rule.
Therefore, you can configure the condition on the transport rule.
Like, apply it to internal messages or only on the messages going outside the organization.
Then, the action is applied, like append disclaimers to all emails.
Steps To apply disclaimer in exchange 2016
To apply the disclaimer to all outgoing emails from your organization.
Follow the steps below
Log in to the Exchange admin center with admin credentials.
Navigate to Mail Flow and then click on rules.
Click on + sign and click on create a new rule.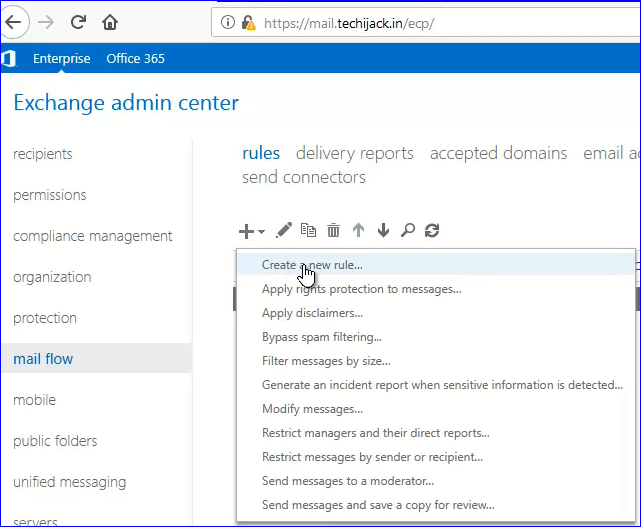 Once you click on create a new rule.
A new window will pop up.
Give a name to the disclaimer and set the condition. Like below screenshot applies disclaimers to all messages.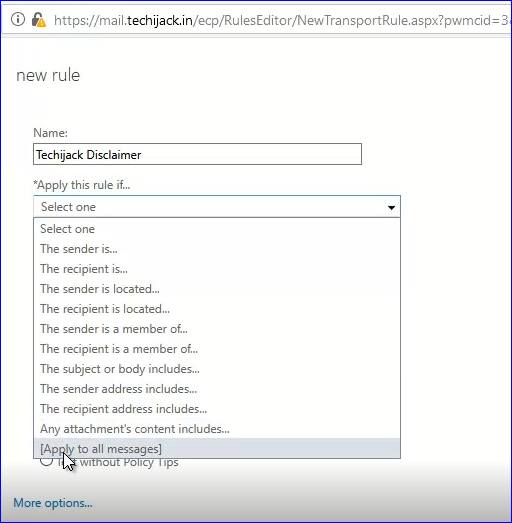 Now it time to set action on the message.
As we want to apply the disclaimer on every outgoing message
Choose the action to append the disclaimer.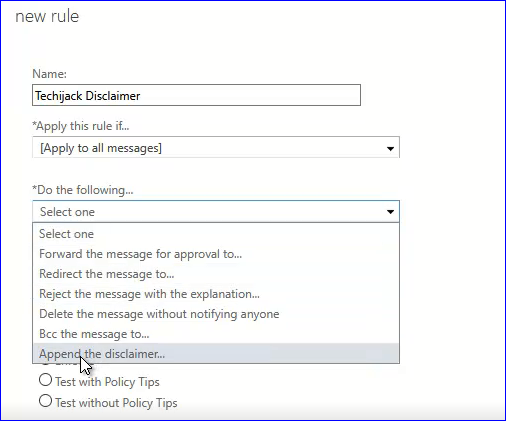 Now click on the enter the text for disclaimer.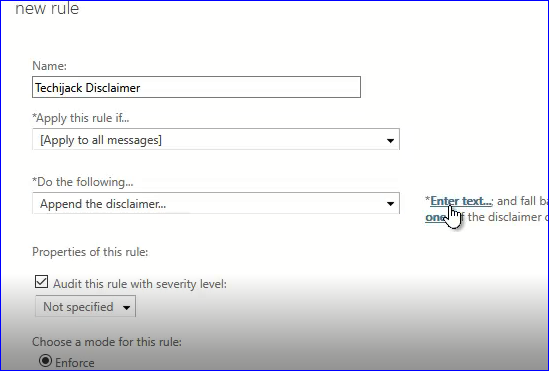 Now specify the disclaimer, which you want to put on the bottom of the email content.
Also, click on select one and make sure, a wrap is selected for fallback action and click on save.
 .
Make sure the rule is enforced.
Once all the above step completes.
Finally, every email will have a disclaimer in it.
Therefore, you can test it by sending an email to inside or outside the organization.
Your email will have a disclaimer at the bottom of every email, like the below screenshot.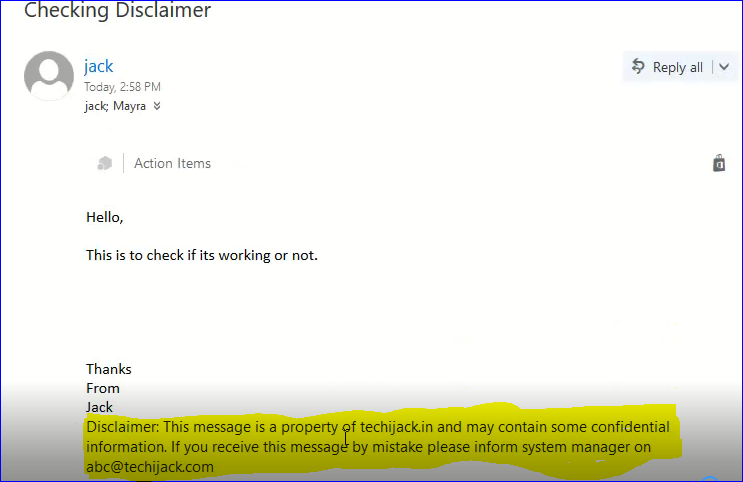 Note: If you want to choose an exception, you can do that by clicking on more options.
Therefore, to make it more clear.
Please watch the following video to apply disclaimer in exchange 2016
How to apply disclaimer on the exchange server 2016 for compliance.
Furthermore, for any assistance and support email to info@techijack.com