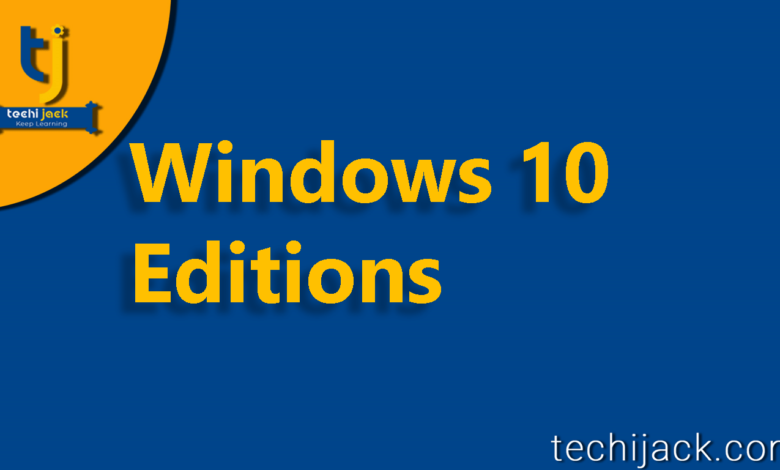 What Are Windows 10 Editions Choose Correct One
As you all are aware that, there are different editions of Windows 10
A different version of Windows 10 has a different use for home and enterprise users.
Every version is different in terms of features, price, and functionality.
So, it is important to understand that, which version is suitable for you.
Choosing the correct version of windows is very important for an individual as well as for organizations too.
Furthermore, In this article, we will discuss the different editions of Windows 10.
Windows 10 Home Edition
Windows 10 home edition is specially designed for home users.
It has all features which should be there for home users.
So, Let's see the feature of windows 10 home edition.
It includes a personal digital assistant that is Cortana.
Microsoft Edge as a new browser
Tablet mode for touch devices
Biometric Sign-in capability
Music, videos, photos, calendar, mail, and many other inbuilt apps.
Virtual Desktops
Automatically receives updates.
Windows 10 Pro Edition
Though, it includes all the features of the home version but also has some other enhancement features.
This pro version is useful for small and medium businesses that need drive encryption and virtualization.
It also offers new updates for businesses which helps to reduce cost management.
Therefore, it also offers quick access to security updates.
Moreover, Windows 10 Pro has the following features
Join with Domain Environment.
Support group policy management.
Hyper-V Client Control
Join with Azure Active Directory
Data protection for enterprises
Windows 10 Enterprise Edition
The Enterprise version includes all the features of the pro version but also has some more enhancements.
Mainly it is useful for large enterprises.
This version of windows is only available for volume licensing customers only.
Enterprise edition includes extra security features such as windows defender credential guard and device guard.
Windows 10 enterprise edition provides the following benefits
Windows to go, creator,
Direct Access
Windows BranchCache
App Locker
Windows Defender Credential Guard
Windows Defender Device Guard
Start Screen Control With Group Policy.
Microsoft Application Virtualization
User Experience Virtualization
Note: Windows 10 enterprise long term services channel is a special edition that will not update with any new feature.
Though, it will receive some important and security updates
It is also referred to as a Windows 10 enterprise LTSC.
You should deploy these windows where the environment does not change.
However, the name is the same but the LTSC version is quite different from the enterprise version.
The difference in the LTSC version of Windows 10 Enterprise
It does not include Cortona
The LTSC version does not get future upgrades.
Does not have a Microsoft Edge browser.
Microsoft store client is missing from this version
Moreover, Many inbuilt apps are also missing.
Education Edition
This edition of windows is useful for school staff, teachers, students & administrators.
It includes all features of the windows 10 enterprise version except for the long term service branch.
The education version is only available through academic volume licensing.
Mobile Edition
This version of windows is for small devices such as mobile, tablets, smartphones, and other small touch devices.
It includes all universal app which is inside windows 10 home edition.
However, it can work as a pc if connected with a monitor.
You can only run the universal app on this version, desktop app installation is not supported.
Windows 10 Mobile Enterprise
The mobile enterprise version is for business customers for small devices and smartphones.
Therefore, it is available for volume licensing customers only.
It also provides quick access to the latest security updates.
Windows IoT Edition
There are three editions of the windows Internet of Thing (IoT) version.
The core version of Windows 10 IoT is suitable for small devices such as toy cars, robots, sensors, etc.
The Enterprise version of Windows 10 IoT is suitable for Atm's and other robotics.
Moreover, the Mobile version of Windows 10 IoT is suitable for automobiles and handheld terminals.